Better Value Sooner Safer Happier, a review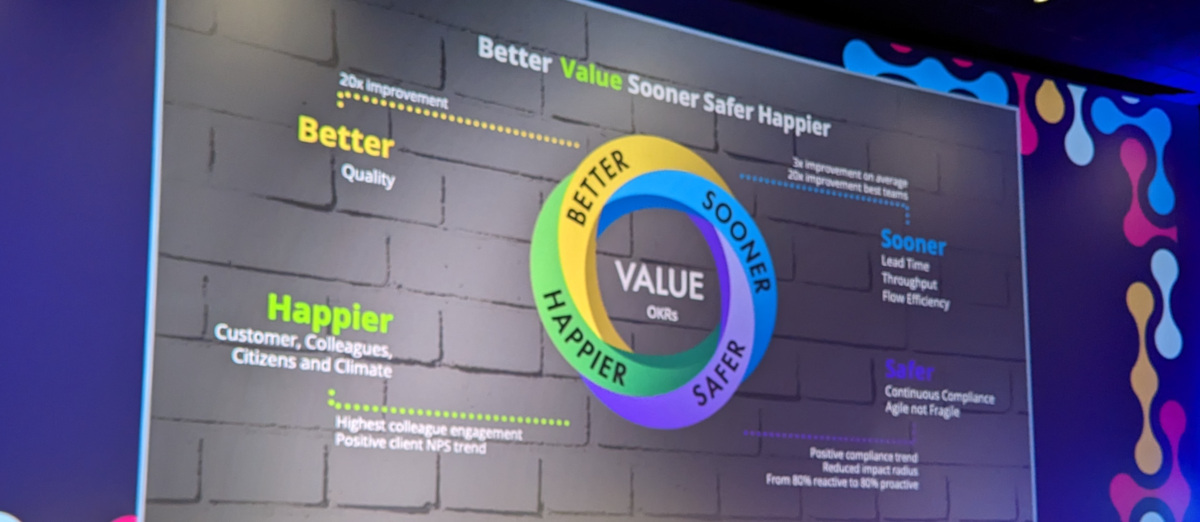 Yesterday, I attended a session, presented by Jonathan Smart, on the topic of "Better Value Sooner Safer Happier" which was based on his book "Sooner Safer Happier". The author's approach is based on Lean, Agile, and DevOps principles, which have been adopted by many organizations worldwide, but with a strong focus on outcome, not on any process like Scrum, DevOps or Scaled Agile. In this review, I will share my key takeaways, I will not share his full talk, you can read the book and find some videos online.
Why?
If you know me, you know I like this question. the most important question. If you want to know why (pun intended), read "Start With Why", from Simon Sinek! But why would you like to focus on outcome? And, if we are not, what are we focusing on?
Many times, we are focusing on output, what are we delivering and how are we delivering it, without looking at the real value. I guess these two images cover the essence of it very well: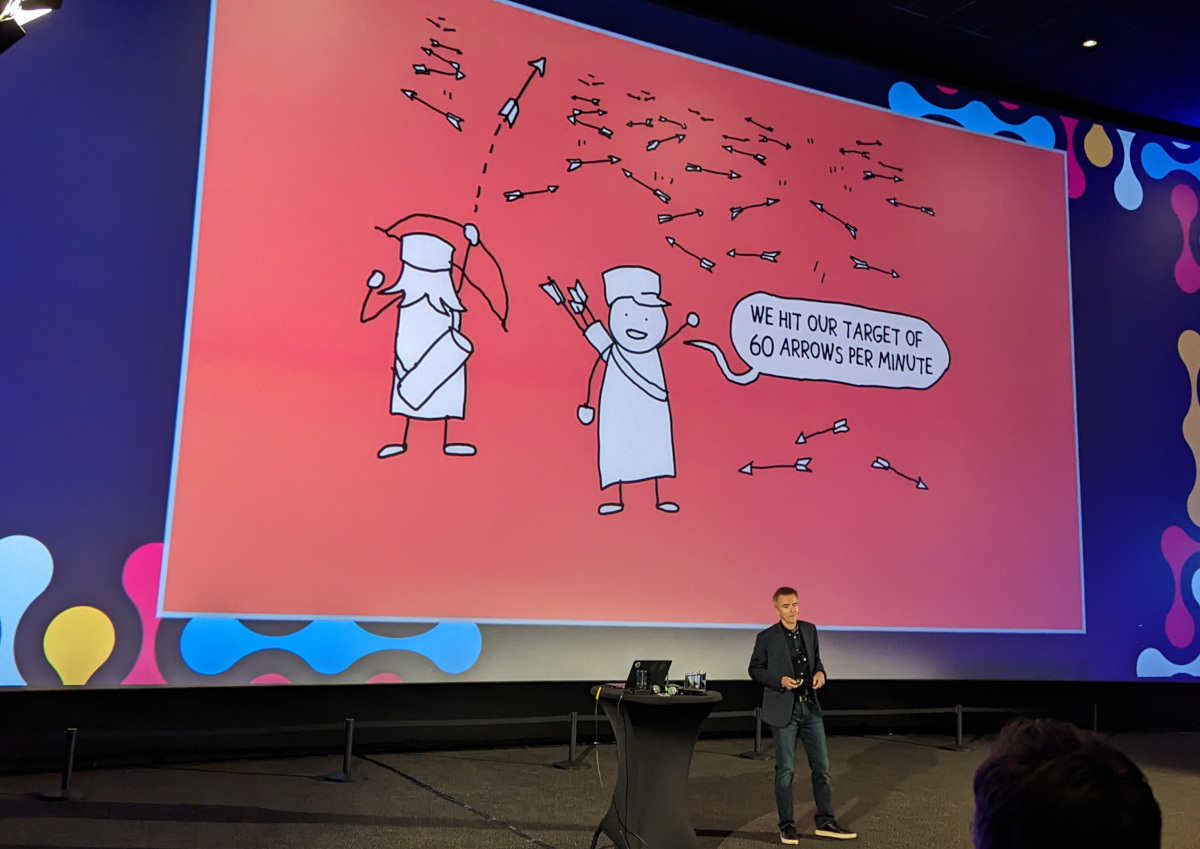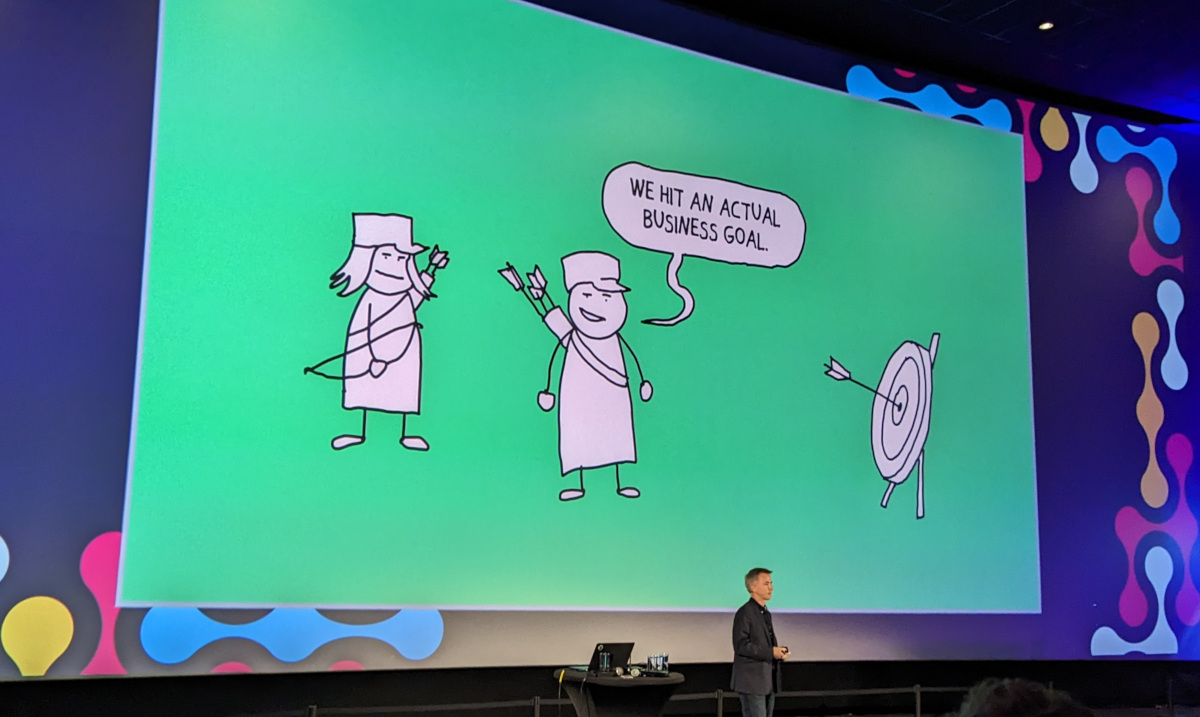 Focus on outcome
Jonathan told a very strong story about focussing on outcome (and I paraphrase here): imagine, you are walking with a bunch of people, hungry and tired, without food. You reach a river and, low and behold, there seems to be a small village on the other side of the river. Will there be any food there? What do we do?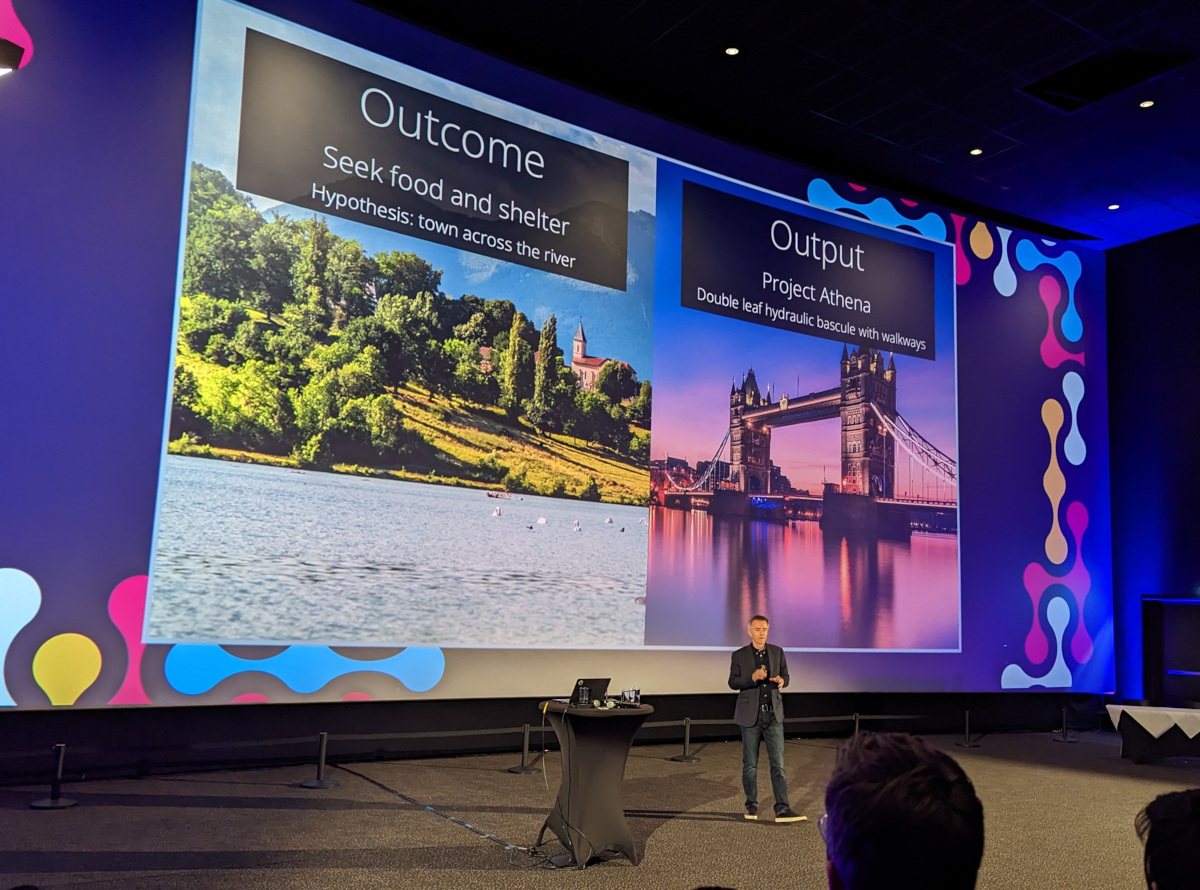 Outcome
Well, let's start a small fire, let's create some smoke, to see if there are any people living there? Look, there they are! They are even waving at us, they look friendly. What could be the next step? Let us build a raft so we can cross the river with a few people, see if they have any food. What do we need? We have wood but no rope, so let's walk back, we've seen another group a while ago.
Well, too bad. We met the people at the other side, they had a difficult year, so they barely have enough food for their own people. But, luckally, they told us there is another village, at our side of the river, just behind the hill, they had a great harvest and enough food to sell!
Output
Let's build a bridge! We need a design, a budget, a commitee! Let's have some meetings! Well, it will cost us some money, and maybe three months of our time (or, more likely, a year and three months), but then we will have a bridge that lasts for ages!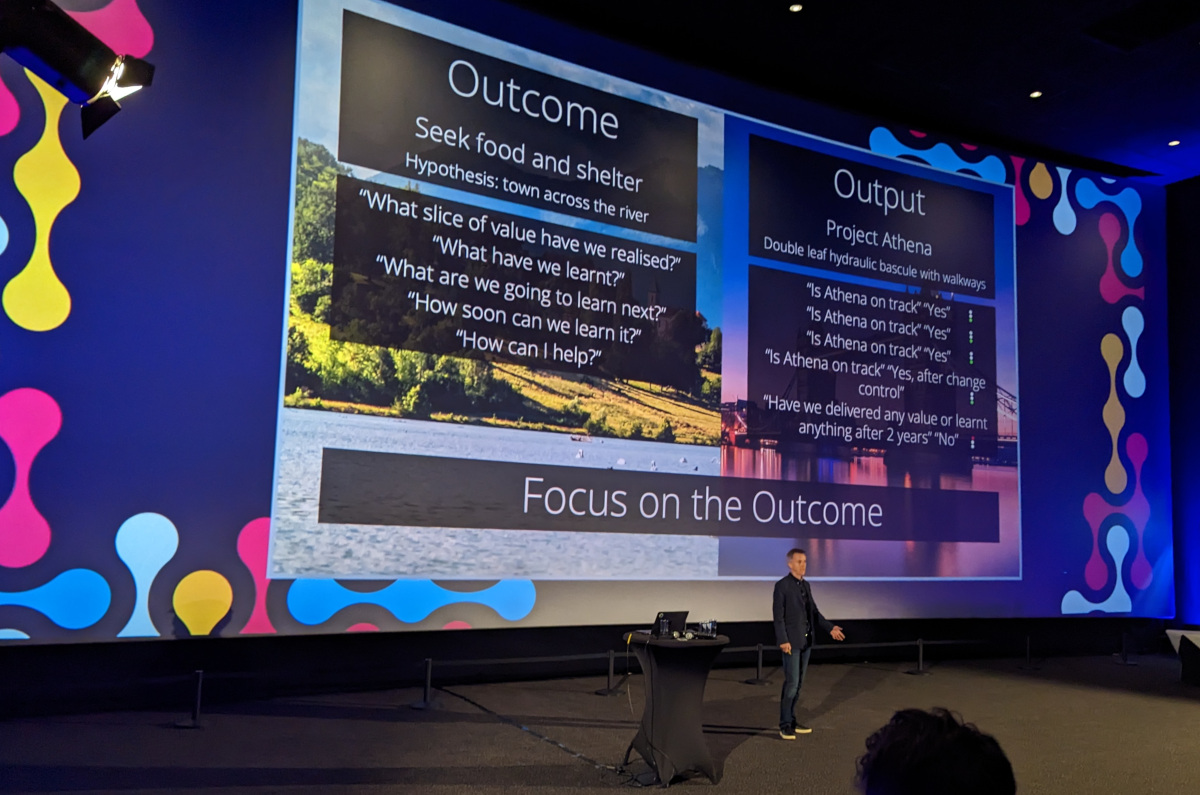 OKR's
Which of the two stories sounds more familiar? Unfortunatly, I am very much familiar with the second story (although often not on such a large scale). Creating small, readable and seemingly acceptable OKS's (take a look at the photo's, Jonathan changed Objective with Outcome) seems difficult. But, looking at the photo's, it suddenly makes sense. They can be simple, readable, just a few lines of code!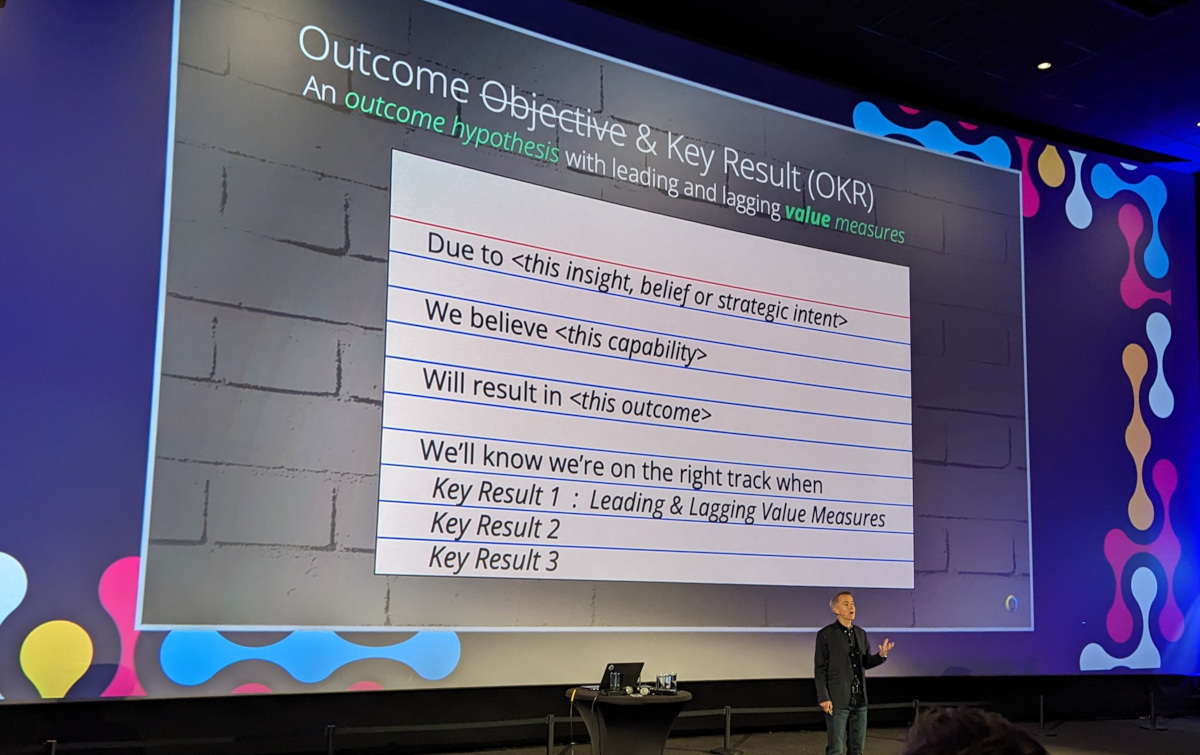 I guess, this form of writing OKR's also helps in focussing on outcome rather than on input.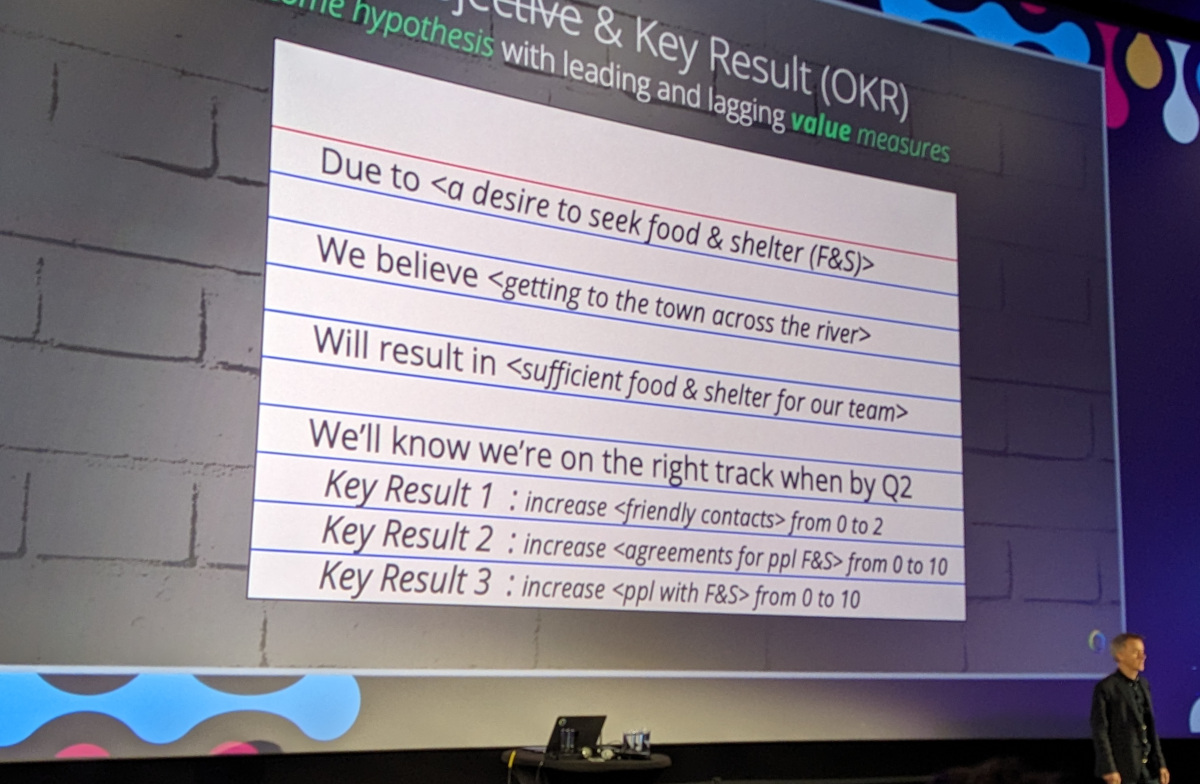 Mapping it to a larger scale, on a timeline, he does make it look so easy!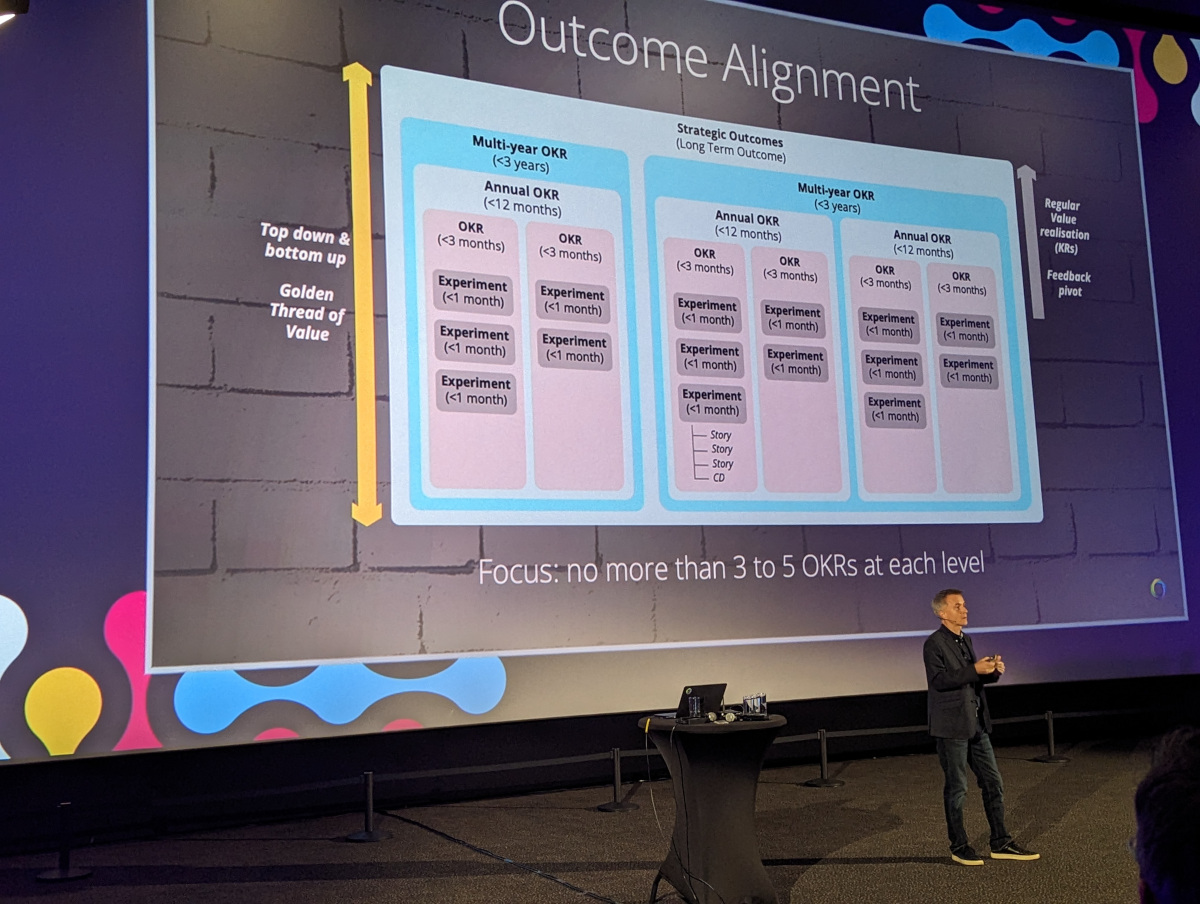 Mapping it to value streams, to generate flow (did anyone say Team Topologies?):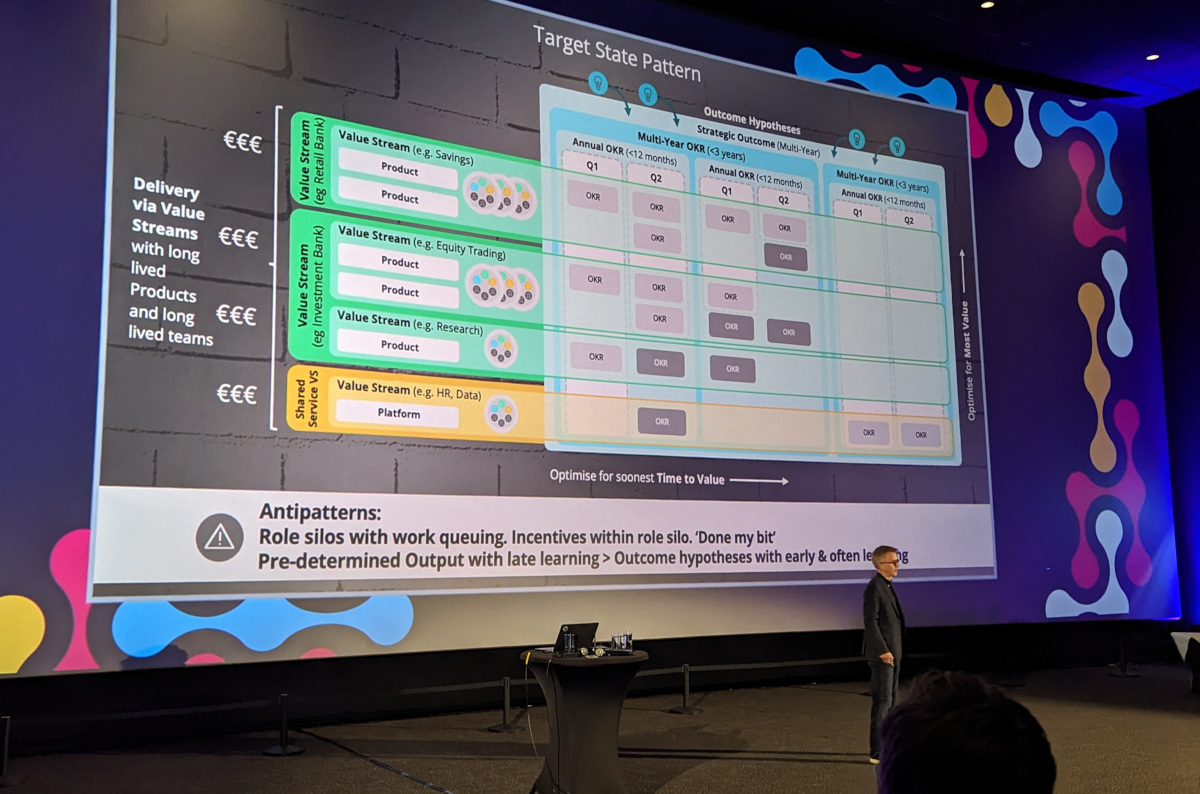 As I am currently working in an Enabling team, I am not really focussed on outcome for our business, but rather on helping the value stream teams to find and keep their flow. Hence, I am not really working in the writing and mapping of OKR's on value streams. But, having seen this session, I guess I can also be of a better help, helping teams to optimize for a better flow!
Conclusion
As said, these are just some of the highlights. The message Jonathan delivers is way much stronger, I can only advise to read his book, watch a talk or two online, and if you have the opportunity, go see him on stage! I especially like his story about crossing the river, and translating it into OKR's, it looks so easy. I am really looking forward to try and implement some of the knowledge and insights I got from his session!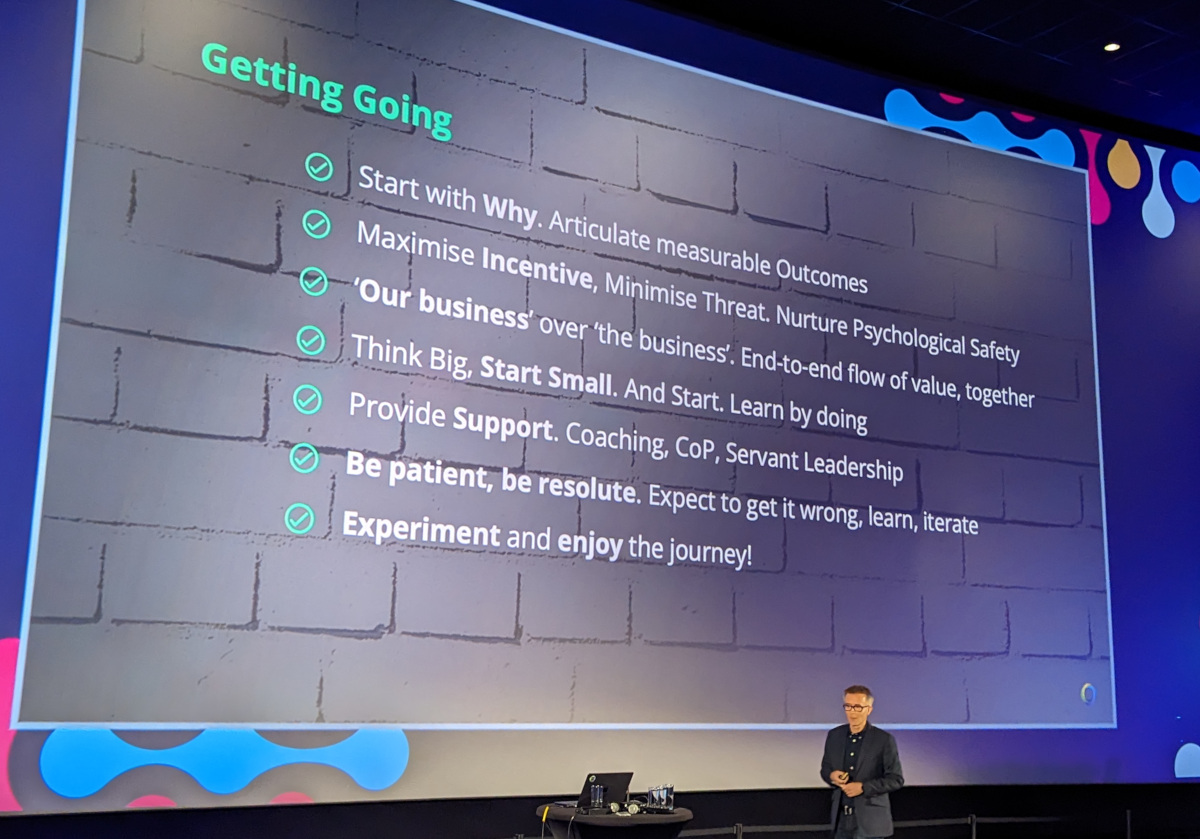 In fact, I have already started applying some things from the book, even before I attended this session. Some of my co-workers might recognize the statement from the photo: "Our business" over "the business". I dropped this quote here and there, and people have started applying it. It is just a small change in language, but is makes the gap between development teams and our business (hopefully) a bit smaller!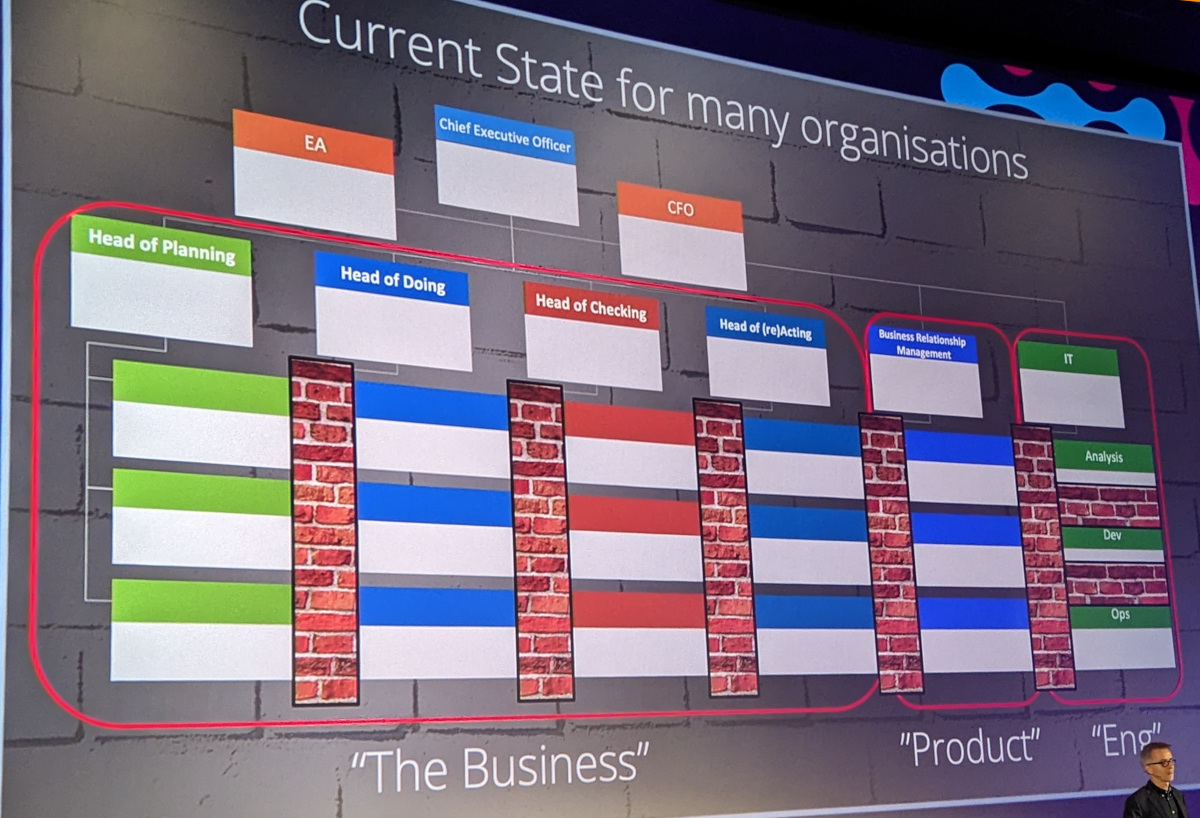 Let us try and tear down some of these walls! Let's collaborate more, with a focus on outcome! Let's create better value, sooner, safer and happier!
Sources